(Featured image source about Dodge Ram 12 inch touchscreen: www.buick.com/4g-lte-in-car-wifi.html)
Is your 8-inch screen too small for you? Why don't we talk about Dodge Ram's 12 inch touchscreen?
Let's face it – a car's features often become a determining factor in which dream vehicle we purchase. Many car features having to deal with our phone can quickly become outdated and non-compatible. Remember the days when plugging your phone into the auxiliary cord was the newest feature that made CD players obsolete? Now, Dodge Ram brings about a more advanced update in their innovations, particularly the 12 inch touchscreen!
Which Dodge Ram has the 12 inch touch screen?
The Ram 1500 is known for the most luxurious truck in its class and the new Ram 1500 comes with a Uconnect infotainment system and a 12 inch touchscreen, the largest in its class.
The Uconnect® 12.0 with Navigation is user-friendly and very easy to navigate. It features an advanced, customizable home screen with split-screen capability, pinch-and-zoom technology, and physical controls for key features. This features makes it easy for drivers to access music, apps, navigation, and more! The full-screen navigation of this 12 inch touchscreen helps keep you on course. The SiriusXM® with 360L also keeps you connected to your entertainment.
You can also pair this infotainment system with your smartphone using Apple CarPlay or Android Auto compatibility to avoid using your phone while driving.
What else does Dodge Ram 1500 has?
Aside from the 12 inch touchscreen, Dodge Ram 1500 also has:
Digital Cluster Display, bringing information to life with full color 3D graphics;
Active Noise Cancellation. Frame-mounted active mass modules working in harmony with the available interior active noise cancellation system. It helps reduce ambient sound to provide an interior quietness in real world conditions.
A media center with auxiliary ports with up to four USB charging ports and up to three 115 volt outlets. This allows you to have your phones charged and connected while driving.
2021 Ram 1500 boasts not only its 12 inch touchscreen but also its Alpine® Premium Audio System. This exceptional system includes 9 speakers, which was the most in its class, and is available with genuine stainless steel speaker grilles (available on Dodge Ram's trim Laramie).
Final Say for Dodge Ram 1500
According to a review for the Dodge Ram 1500, "The optional 12-inch Uconnect system screen offered by Ram helped put this truck over the top when it won our 2019 Truck of the Year award. All trucks offer touchscreens at this point, and some don't even sell a trim level without one. Ram, and its parent company FCA, have long been leaders in terms of the software on the screen, but the 2019 Ram 1500 brought the hardware, too."
Ram 1500's Uconnect infotainment system is a good one, but it is the 12 inch touch screen size that sets this vehicle apart from the other class. The larger touchscreen makes everything easier to see and to use.
It is now easier to use the infotainment system because the buttons are bigger and easier to see on the screen. You can also use the lower and upper half, to display different things. For example, the lower half of your car display could pull up your Apple CarPlay and Android Auto functions while the other half could be your navigation system or audio system.
If you want to have a Dodge Ram navigation system upgrade to 12 inch touchscreen, you can come to check out MVI. MVI, Inc. consists of factory integrated multimedia navigation system integration experts and we can help you upgrade your Dodge Ram navigation system. We also offer to upgrade your Dodge Ram navigation system to an 8.4 inch touchscreen with Uconnect. Fitments for these upgrades includes 2019 – 2021 Dodge Ram vehicles.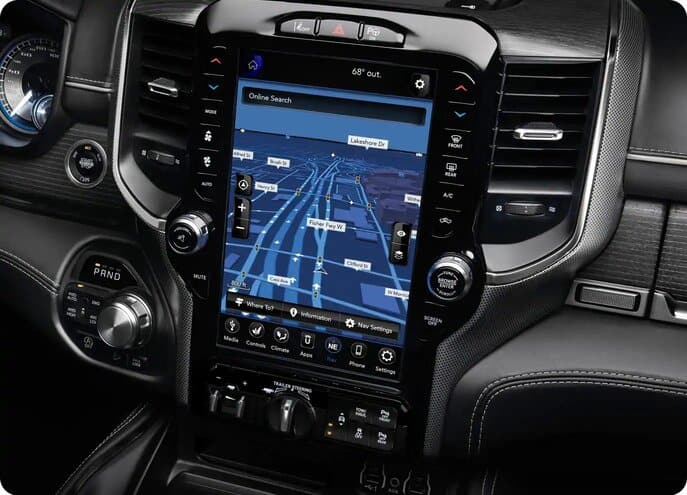 At MVI Inc., we are proud to provide professional installation of OEM navigation systems. We specialize in GM Navigation Systems, but also offer fitments for more platforms including non-Bose audio and other original factory navigations such as Ford, Chrysler/Dodge/Jeep MyGig, and Volkswagen. All of our original factory navigation systems can be perfectly integrated into your vehicle as if it came built that way from the dealer.
For more information on any of our products, please call 866-428-3585 or make a product inquiry. For quickest replies, you can use the Web Chat feature located at the bottom right corner of every page.
Business Hours: Monday – Friday: 9am – 4pm (MST).