Android Auto allows drivers to interact with their Android device, like a smartphone or tablet, while driving. Automobile makers started offering Android Auto integration to their car radio or infotainment systems. This is essentially to assist drivers using voice navigation and improve safety with hands-free calling. So, how to play video on Android Auto?
With Android Auto, supported apps on the Android device will be mirrored to the car's display or dashboard head unit. The primary apps that are supported are GPS mapping and navigation, Web search, SMS, telephone, and music players.
Can you play Videos on Android Auto?
It goes without saying that watching a video while driving can be deadly and for safety reasons. Google has blocked apps like YouTube and Netflix on Android Auto. However, there are ways to unlock video streaming with Android Auto.
It is of utmost importance that video play is used only while the vehicle is parked. This way, it cannot be a distraction to the driver. For example, watching videos inside a vehicle is a great way to pass time while waiting at a charging station. Another is waiting to pick up your food while it is being prepared. Or just waiting to pick someone up from a sports event or a shopping mall.
Some of the methods to allow video play include installing applications outside the Google Play Store, but if you are up to it, then read on!
Android Auto Prerequisites
First, your Android device must be running Android versions 6 to 11. Next, download the Android Auto app from the Google Play Store and install it.
Second, the vehicle's head unit must support Android Auto. If not, you can get an aftermarket car audio system that supports Android Auto. Android Auto must also be turned on and/or the car must be compatible with Android Auto Wireless.
Last but not the least, your Android device or phone must have a good cellular or mobile data connection like 4G or 5G to access the Internet.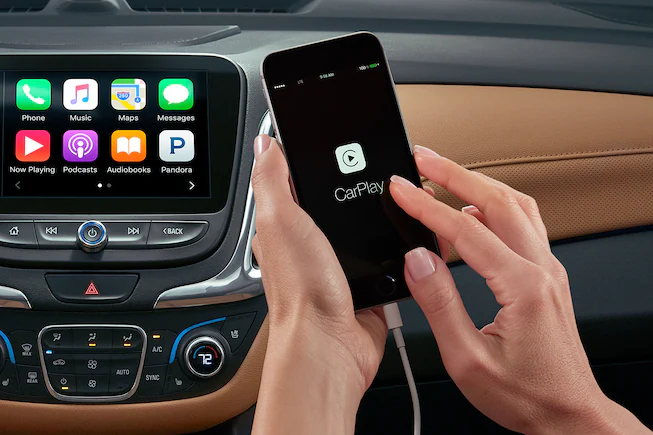 How to Connect to Android Auto
Drivers can connect their Android device to their vehicle via a USB cable or pair it wirelessly. If you are connecting your Android device or phone for the first time, turn on your car and ensure it is in park mode. Then, plug one end of a USB cable into your vehicle's USB port and plug the other end into your Android phone. Follow the on-screen instructions to complete the setup. You might be prompted to update the app to the latest version.
Once your phone is connected to the vehicle, you are required to pair your phone and car via Bluetooth. This is to allow phone calls via hands-free calling. It is also recommended to turn on Wi-Fi and Location Services, especially during wireless setup.
How to Use Android Auto
When you have successfully connected your phone to your vehicle via Android Auto, the phone display will go blank as it is mirrored on the car display. This makes it easier to see and navigate with a bigger touch screen.
If you already downloaded and installed the apps you might need such as Waze, or Spotify, then all you need to do is find them on the car display and launch them.
You can also easily utilize Google Assistant via voice command, "Hey Google" to ask for nearby gas stations or any information you might need.
Android Auto also gets information on calls and text messages read out to you. This means your eyes are fixed on the road and your hands stay on the wheel for control. This is why many car owners and drivers consider this a must-have.
Aside from these, you can also play games on Android Auto. Although games are limited to what is designed for use in a car, classic games such as Tetris, Candy Crush, and Fruit Ninja are available.
Play Videos on Android Auto
The easiest way to play videos on Android Auto is by installing an app called Android Auto Apps Downloader or AAAD. The purpose of this app is to allow you to download Android Auto third-party apps and correctly install them. It also grants you full access to all the features of the built-in touch screen in your car.
You must know, however, that AAAD is not available in the Google Play Store as it is an unsigned app. If this is no big deal to you as you would rather use the enhanced features of Android Auto, then you are good to go. The process is straightforward, unintrusive, and can be effortlessly reversed. The download link to AAAD is https://github.com/shmykelsa/AAAD.
Simply follow the installation instructions and FAQs on the link and once completed, you should have a list of cool apps available to download and install right into the original Android Auto experience on your car's infotainment system.
Some of the most popular apps like Fermata and CarStream will allow you to play videos that are locally stored in your phone's internal memory or SD card, as well as videos from YouTube and a Web browser.
AAAD has a free and pro version. If you go with the free version, you are allowed to download one app for free per month, whereas the pro version unlocks more features and all apps are available to you anytime.
If you see a warning from Google Play Protect about the AAAD, it is only because Google blocks third-party apps that are not managed by them. As mentioned previously, this app does not require any special permissions and can easily be uninstalled.
Some vehicles, depending on the make and manufacturer, may not display the video in full screen to show other on-screen utilities like battery status or nearby stations.
As a final note and warning, there is nothing stopping you from playing videos while driving. But in most states and countries, watching videos while driving is illegal and you can be arrested. Always keep your safety, your passenger's safety, as well as pedestrian safety a priority.