Why reset your RAM Screen?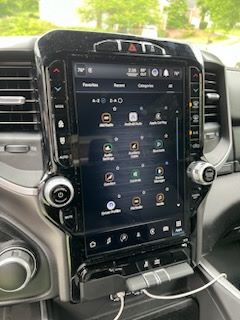 Resetting your screen can resolve some minor issues with delay or responsiveness. 
To reset the RAM 12-inch screen, you can try the following methods:
Put your vehicle into accessories mode (ACC or RUN).
For keyless start (push-button) vehicles: Push the start button twice without having your foot on the gas or brake pedal.
Hold down the Phone and voice recognition buttons (or tuner and volume knob) simultaneously for thirty seconds.
Release the buttons.
Turn the vehicle off.
Open the driver's side door for thirty seconds or until the dash illumination goes black.
Close the door.
Restart the vehicle.
Access the dealer mode on the UConnect system to see if there is a reset option:
Press and hold both lower corners of the display screen until the Dealer Mode screen appears (approximately seven seconds).

Release the buttons.
Check if there is a reset option in the Dealer Mode screen. Note that the reset option might not be available in this mode. You may see options to save used data to USB or load user data from USB, among others.
Exit the dealer mode.
Check out some of our RAM Upgrade Videos:
2018 - 2021 RAM Carplay Portal 2.5+