DODGE RAM 12 INCH SCREEN WITH U Connect 5
MVI 2022 – 2023 Dodge Ram 12 inch screen, is a genuine Mopar 12-inch Uconnect 5 Nav. It's the latest RAM system has faster processing speeds, advanced electrical architecture and more memory give Uconnect its lightning-quick response to touchscreen input with High-Resolution Touchscreen Display with Split-Screen Capabilities, GPS Navigation, Integrated Voice Command, Bluetooth® Streaming Audio, SiriusXM, and Wireless CarPlay ® / Android Auto ® compatibility and Expanded Alexa "Car to Home" function . This upgrade is an OEM flagship product of the All-New Ram Infotainment Systems which will give you control at your fingertips.
This system can also be retro-fitted to your 2019 – 2021 Ram Truck models, to upgrade uconnect 4 to 5 for faster and smoother interface, wireless Carplay and Android auto, full screen display for Carplay and android auto and many more.
The 2022 – 2023 Dodge Ram 12 inch screen with Touch functionality UAX Navigation System. With the ability to connect two Bluetooth phones simultaneously, Uconnect 5 enables multiple devices to interact with the system.
MVI 2022 – 2023 Dodge Ram 12 inch screen, is a genuine Mopar 12-inch Uconnect 5 Nav. It has High-Resolution Touchscreen Display with Split-Screen Capabilities, GPS Navigation, and will give you Wireless Apple CarPlay ® / Android Auto ® compatibility and Full screen Apple Carplay and Android Auto.
The product is going to be shipped as a complete kit. So, whether you have the basic 5 inch work truck radio, 8.4 inch Uconnect CarPlay / Android Auto, or the 8.4" Uconnect with Navigation, you can upgrade to the newest Infotainment Technology available. At MVI, we got you covered. Our top-notch customer service and technical support will help you do things the factory way.
It is very important to note that this 2022 – 2023 Dodge Ram 12 inch screen upgrade does require in-vehicle programming, and Windows PC or Laptop for computer access at the vehicle IS Required. Note: Apple / MAC is NOT supported.
MVI will supply the necessary programming software and cables to connect to your vehicle, however, computer knowledge of installing software and necessary drivers are required. MVI will provide step-by-step programming instructions and tech support to assist in the process (tech support must be scheduled).
The programming process can be a bit tricky in some vehicles, so patience and tech support cooperation is a requirement for a successful installation. Please make sure you have a PC computer and have a good level of comfort in operating it before making this purchase.
If you are unsure about this or have additional questions regarding this process, please make sure to contact MVI before checking out with this product.
Install Level of Difficulty: Install itself is plug and play and is a 2-3 on a scale of 1-10. The programming can be tedious and frustrating at times, so computer knowledge is a must if you plan to do this install on your own.
install video is the old version, but exactly the same process
Grey - Rebel Red - Carbon Fiber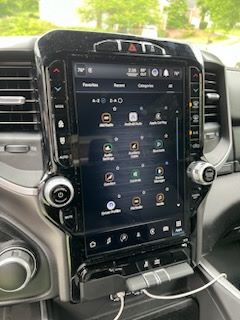 DODGE RAM 12 INCH SCREEN UPGRADE INCLUDES
New 12-inch Ram Infotainment Touchscreen
12-inch Uconnect 5 Radio Module
Matching Interior Dash Bezel Assembly
Harness Conversion Kit / Cables
Programming Software
Programming Cables
15 Minutes of Scheduled Phone Call Tech Support
Tech Support via SMS TEXT
This upgrade does NOT upgrade you to Dual Zone Automatic Air Control. This is very important to understand if you are upgrading a Ram that is currently equipped with Manual HVAC.  
The upgraded screen only comes as a DUAL Zone Auto Climate control, so if you are upgrading from Manual Climate Control, you will need to consider the Cabin Air Sensor Kit as an upgrade to add to the system. This added harness kit will give you Single Zone Auto Climate Control, and will allow you to control the air much easier. Upgrading to actual Dual Zone Auto Climate requires replacing a lot more components in the dash and is not something we support at MVI. 
Adding the Cabin Air Sensor Circuit will require 4 Hardwire connections. You can see a bit more detailed overview of the install of the harness here: Cabin Sensor Kit Install Overview
2019 and up New Generation Ram
Windows Laptop PC or PC Desktop with vehicle access (Mac/Apple is not supported)
Basic Computer Software/Driver Installation and Computer Operation Knowledge.
New screen works amazing. And easy installation. Thank you again for everything.

Landy Saez
Nov 16, 2021
Upgraded my 8.4 non nav to the 12" by purchasing all the required items off of MVI. They provide everything you need and have easy to follow instructions for self installation. Jose Lugo
Sep 22, 2021
Outstanding work guys! Thank you for supplying the harness and software for my 2019 ram 1500 12 inch upgrade. You guys really Know what customer service is about. Thank you for answering my messages on a Sunday evening when I'm sure you were with loved ones. Again Thank you and the system works perfect! Darien Bosques
August 10, 2021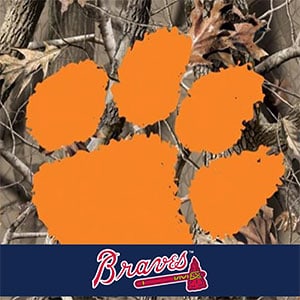 Chip Maglione
December 8, 2021
Absolutely Phenomenal. I goofed up on the programming with the laptop and their technical support was very fast and helpful. Highly recommend. Entire transaction was perfect. Love my new larger radio and screen! Thank you MVI
Zach Dronet
January 16, 2022
They sent me out a 12 inch headunit for my 2020 dodge 2500 diesel. Everything went smooth, instructions are super clear and 100% doable for the average person. I like the company. Worth saving 1300 dollars and programming yourself. Recommended company for sure