MVI Inc is proud to bring you the GM Multi Camera auto switching trailer towing system for your 2014 – 2018 Chevy Silverado and GMC Sierra Truck or SUV with 8″ MyLink and Intellilink system and 2019 classic body style Silverado and Sierra (additional fitments listed below).
Ask Product Question:
If you have additional questions regarding this product, please click the button above and we will get back to you as soon as possible.
Get Order in Place:
If you have all the info you need to get an order in place, hit the button above. FYI, this will take you to a form to fill out so we can contact you regarding the order. We will want to chat a little further to make sure both parties are on the same page regarding product operation, installation, shipping timeline and tech support process before getting the order in motion.
GM TRAILER CAMERA SYSTEM – MULTI CAMERA AUTO SWITCHING WITH SPLIT VIEW
This Multi Camera Surround Module accepts 4 camera inputs (front, right, left, and additional rear). In addition; with the use of our video switcher, we can add additional rear camera options such as cargo / wireless camera that allows you to easily toggle between them factory rear tailgate handle camera when in reverse or on the go. The GM Multi Camera auto switching trailer towing system provides automatic switching for left and right turn signals, virtually eliminating blind spots when changing lanes on the roadways (especially when pulling a trailer). It will also provide an optional automatic front camera turn on, which provides tremendous value when trying to park in a crowded parking lot or a tight spaced garage. Cameras can also be pulled up individually, or together, and viewed directly on the Factory 8″ screen at any time; on demand while moving down the road.
We offer this 360 Surround / Blind Spot Camera System with the ability to add whichever cameras suit your particular needs. So; whether you just need a Front Camera system for parking that low to the ground Camaro, or need a full 360 Surround for pulling that trailer….we have you covered.
All of our systems come complete with everything you'll need for your installation; including all harnessing, a BASIC set of instructions, installation videos (if available), and up to 15 minutes of technical support (more info below)
The camera module itself is plug and play and is a fairly easy install. On a scale of 1-10 difficulty level, we'd say it's about a 3-4. The camera portion of the upgrade can get a bit challenging and you will most definitely need a strong comfort level if planning to do the install yourself. Please watch the videos in the links below to get familiar with the install process of each.
Front Camera and Cargo / Brake Light Camera and Optional Wireless Install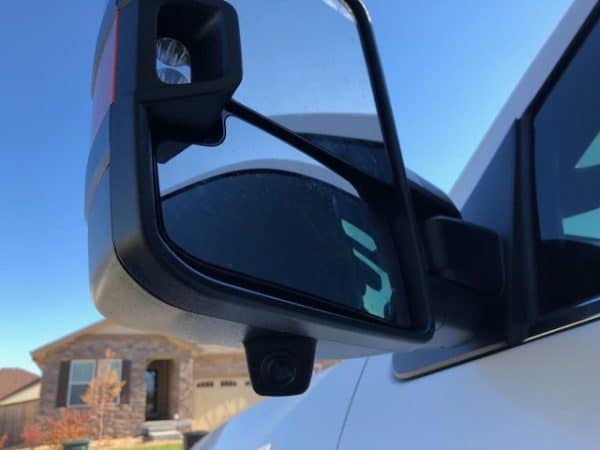 OPTIONAL WIRELESS ANTENNA EXTENDER
If you are pulling a large RV or Trailer and you would like to see what's going on behind the rig while moving down the road, you'll want to add our antenna extender kit to the order. This kit allows you to bring the wireless camera antenna as close to the front of the rig as possible. The extender cable is custom made with with weather proof cable designed to carry video signal over long lengths. Please make sure to give us your trailer length when adding this feature to your upgrade.
Please see the antenna extender install shown in this video: Wireless Antenna Extender install with GM Multi View Camera Module
OPTIONAL FACTORY REAR CAMERA IN-MOTION HARNESS
We can also give you the ability to view your factory tailgate camera for in-motion factory rear view camera viewing; right on the Factory 8″ touchscreen, utilizing your 360 GM Camera interface. Extra Plug and Play harness (truck's) or partial harness and hardwiring (SUV's) required for rear camera in motion viewing. This feature comes in extremely handy when trying to park in tight spaces or for viewing your back up camera as a "rear view mirror" camera while driving.
If your vehicle is not previously equipped with a reverse camera please check out our OEM GM Factory Tailgate Handle BackUp Camera for your Sierra or Silverado Truck  available to add to your kit. 
Now also available with  the optional: Custom GM 3rd Brake Light Cargo Camera & Wireless Camera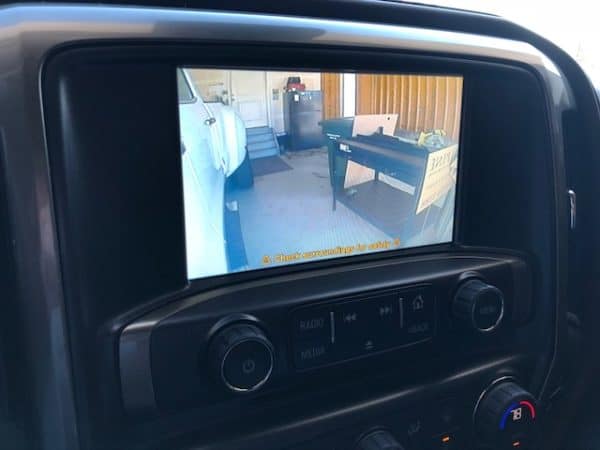 MyLink or Intellilink Screen Required .
GM Multi camera Camera Module itself is completely plug and play. Camera installations are also plug and play, however they are a very advanced install and professional installation is highly recommended as there is a lot of labor involved in mounting and running the camera wires.
Factory Rear Camera In-Motion will require our plug and play harness (additional cost) to view your tailgate camera as a "rear view mirror" while driving down the road.  See above for details.
Professional installation is recommended if you are not familiar with automotive electronics and installations. We do provide up to 15 minutes of BASIC installation support for customers that prefer to do the install on their own, for trouble shooting purposes ONLY. As a custom business we are NOT able offer on-demand tech support. Tech support must be scheduled via TEXT MESSAGE only. For more info please view our Terms and Conditions.
2014 – 2019 Chevrolet Silverado (excludes all new 2019 infotainment 3 vehicles)
2015 – 2020 Chevrolet Suburban and Tahoe (3rd brake light camera and tow mirrors not available)
2014 – 2019 GMC Sierra (excludes all new 2019 infotainment 3 vehicles)
2015 – 2020 GMC Yukon / Yukon XL / Denali (3rd brake light camera and tow mirrors not available)
2015 – 2018 Chevrolet Colorado (3rd brake light camera and tow mirrors not available)
2015 – 2018 GMC Canyon (3rd brake light camera and tow mirrors not available)
Additional Fitments available (Please call for info)
For more information on any of our products:
Please Call 866-428-3585 or make a product inquiry. For Quickest Reply's - Use the Web Chat feature located at the bottom right corner of every page. Business Hours: Monday - Friday: 9am - 4pm (MST). Tech Support must be scheduled and is handled by TEXT message only unless a phone call is deemed necessary by MVI.