Awaken your vehicle's potential with our Custom Hand Built in the USA IOB Harness kits! Our kits are built to last and will give you a more technologically advanced ride for years to come. Get ready to do your 2014 – 2018 Silverado Touch Screen Upgrade Today!
Please carefully read all the checkboxes and select the proper dropdown menu options for order accuracy.
MVI Custom Hand-built Wiring Kits will get you done quickly and with ease. Allowing plug & play OEM connectors where applicable; these wire harness kits feature detailed instructional videos and photo documentation, when possible, and typically come labeled for connections. You can always count on our 5-star service when buying from MVI, with products backed by a standard 1-year warranty.
If you are looking for ways to upgrade from that small 4-inch screen, the 7-inch, 2014 – 2018 Silverado touch screen upgrade will give you that larger display, at the most affordable price point. This means that you can now use your fingertips to control the radio and make adjustments while driving.
The 2014 –  2018 Silverado touch screen upgrade is clearly the best upgrade for your truck. It has Apple CarPlay and Android Auto built-in, giving you on-screen navigation functionality from your phone. It also gives you Bluetooth capability for making hands-free phone calls and streaming your music wirelessly. The display is also very clear and easy to read under different lighting conditions.
Install Video: 4 inch IO3 to 7 inch IOB Touch Screen
This particular install is fairly low on the scale of difficulty. Likely a 3-4 out of a 1-10 difficulty scale, if you have prior experience working with automotive radio upgrades in new vehicles.
Order your IOB Harness kit today!
Please Note: If you are supplying your own radio and touch screen, it will need to be reprogrammed specifically to your vehicle, in order to function in your vehicle. MVI offers this programming service. All you need to do is add the programming to your cart from the drop-down above. The cost starts at $199.00, which will give you peace of mind knowing that you won't have any worries about whether or not all of the features on your car are programmed correctly!
Please print and place the paid order in the box and ship your radio to the address given at checkout. Please be aware the ship-to address is different from the address listed on the site. We recommend saving your tracking information and ensuring your shipment for the proper value and shipping with UPS or FedEx. This way, you are covered if the shipment goes missing or gets damaged along the way. MVI is not responsible for any loss or damage that occurred during the product's shipping to us. Upon completing the programming (1-2 business days), your reprogrammed radio and wire harness will be shipped back to you. The shipping back to you is covered by MVI and will have the proper insurance placed on the shipment.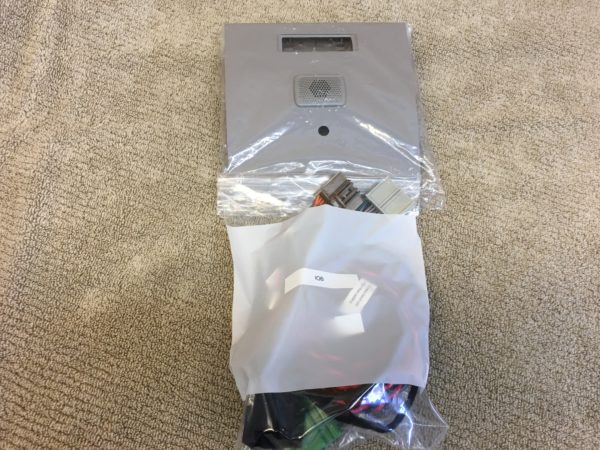 Genuine OEM Connectors and Terminals
ALWAYS SOLDERED NEVER CRIMPED
Wrapped in protective automotive grade fabric tape for OEM look
Each wire is verified and tested after completion to insure operation upon installation
Plug and Play Installation where possible (Some soldering will be required)
Hand built in the USA
Built to exact measurements to insure a proper and OEM fit
Factory OEM Mic pre-mounted in factory panel for Bluetooth option
Ability to add or retain backup camera with supplied dedicated camera input. Click below for more info!
Need to Add the Factory Tailgate Handle Camera? We have it here:
2014-2018 GMC Sierra / Chevy Silverado Factory Tailgate Backup Reverse Camera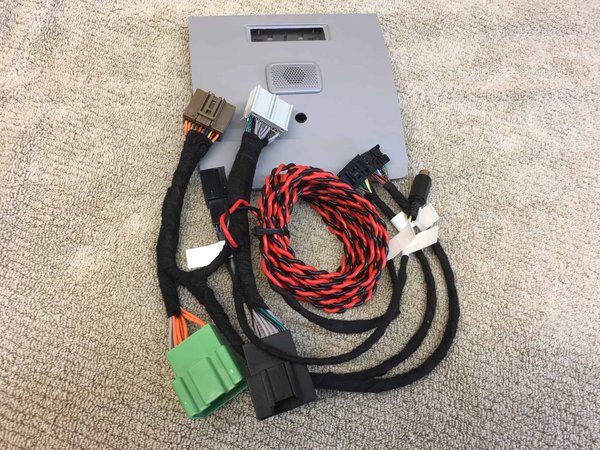 Factory 4" NON-Touch Screen (I03 System) – Please message us using the Chat Feature below for information on how to determine if your vehicle is equipped with IO3
Last 8 of VIN numbers needed upon purchase to verify exact vehicle options
Professional installation is recommended if you are not familiar with automotive electronics and installations. We do provide up to 15 minutes of BASIC installation support for customers that prefer to do the install on their own, for troubleshooting purposes ONLY. As a custom business, we are NOT able to offer on-demand tech support. Tech support must be scheduled via TEXT MESSAGE. For more info please view our Terms and Conditions.
For more information on any of our products:
Please Call 866-428-3585 or make a product inquiry. For Quickest Reply's - Use the Web Chat feature located at the bottom right corner of every page. Business Hours: Monday - Friday: 9am - 4pm (MST). Tech Support must be scheduled and is handled by TEXT message only unless a phone call is deemed necessary by MVI.