GMC Sierra 1500 Camera Kit Will Require Some Modification to the Mirror Housing To Fit Properly. We Have Pictures and Video of Required Modification below.

This upgrade is NOT COMPATIBLE with IOR Infotainment Systems. Make sure you verify your system is IOS, IOT or IOU before checking out with this product.

Please Feel Free to Message Us for Details.
Ask Product Question:
If you have additional questions regarding this product, please click the button above and we will get back to you as soon as possible.
Get Order in Place:
If you have all the info you need to get an order in place, hit the button above. FYI, this will take you to a form to fill out so we can contact you regarding the order. We will want to chat a little further to make sure both parties are on the same page regarding product operation, installation, shipping timeline and tech support process before getting the order in motion.
MVI'S 2019 – 2021 GMC TRAILER CAMERA AND CHEVY TRAILER CAMERA PACKAGE IS A MULTI-CAMERA AUTO-SWITCHING TOWING SYSTEM AND IS NOW IN HD QUALITY!
MVI, Inc.'s GM Trailer Camera, Multi-Camera auto-switching trailer towing system is now in its HD quality! This Multi-Camera Module will be a perfect choice if you are looking for a 2019, 2020 and even 2021 GM Trailer Camera or Surround Camera Package.
This 2021 GMC Trailer Camera and Chevy Trailer Camera Package will be a perfect choice if you are looking for a way to add a 360 Surround View Camera kit to your 2019 – 2021 Infotainment IOS or IOT truck. This will also fit the 2019 – 2022 GMC Sierra but will need some mirror modification (See section below).
HOW MANY VIEWS DOES THE AVAILABLE TRAILER CAMERA PACKAGE OFFER?
The design will integrate perfectly onto your Infotainment 3 Touchscreen; this Multi-Camera Surround Module accepts FOUR camera inputs. It has an integrated smart Graphical User Interface (GUI) to pull up the cameras on-demand and automatically activates the cameras installed in the vehicle for left and right turns. Front camera for parking, or the GMC or Chevy trailer camera (wireless) when the vehicle is in reverse. A super cool and must-have safety feature for your new truck pulling that large RV or trailer down the road! A good option as well if you are looking for a 2019 – 2022 Chevy Trailer Camera.
Like our previous GMC Trailer Camera, Chevy Trailer Camera, and Multi-Camera Surround Module with Split-View functionality, this system provides visibility for those blind spots with the help of the molded side mirror HD Cameras. This provides the driver with situational awareness when moving down the busy roadways and enables a safer and more informed driving experience.
The Auto-Switching GMC and Chevy trailer camera tow system have an option HD Front camera to assist in parking your large truck in those tight parking spots. The Optional front camera can be set to Auto trigger below 8mph in a parking situation. This means the module will need to see a reversal signal and then shift into the park with a slight turn of the wheel as if you are pulling into a parking space.
Finally, we give you a Wireless Trailer and RV Camera in HD Quality! Enough said on this one; HD and Wireless are the perfect camera solution for pulling the RV or large trailer down the highway. You can now pull the wireless camera on-demand while moving down the road and see in crystal clear HD quality exactly what is going on behind you. This also gives you greater assistance in backing up that large RV or trailer into your camping spot or storage space. The best benefit of all is; no more struggling with the GM Plug-in solution that gets cut in half at the bumper when making a turn with your Fifth Wheel setup.
If you have a 2014 – 2018 Model Year Silverado or Sierra, you can visit this page for the compatible kit:  2014 – 2018 GM Multi-Camera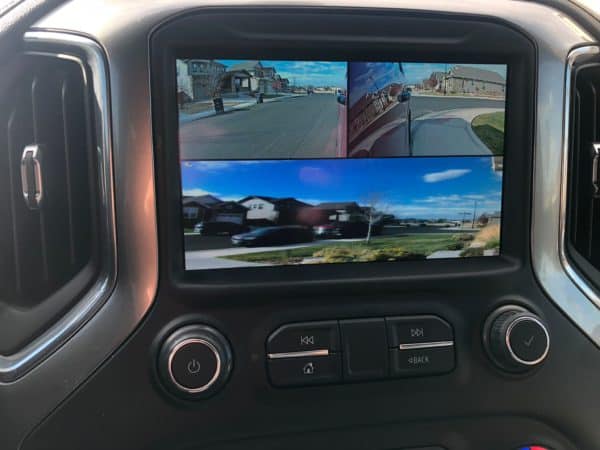 VERY IMPORTANT 2019 – 2022 GMC SIERRA MODIFICATION
Although the mirrors appear to be the same between the 2019 – 2022 GMC Sierra and Chevy Silverado 1500 Models, they are indeed molded differently. In order to fit the backup camera pods onto the mirrors of the Sierra 1500 models, there will be some detailed modifications required. We have the modification briefly detailed with the pictures below, but please feel free to message us directly using the chat app in the lower right-hand corner of the page for more detailed information regarding this.
The raised area going above the mount will need to be trimmed off to level, to allow the securing screws to attach
Close up view of the raised area in need of trimming
You can see the new cap covers all areas and fits good after the trimming
mark the outline of the molded cap with a grease pencil for cutting reference
The side humps of the factory housing need to be cut out to allow the cap to fit back over properly and secure into place with the attaching screws
Finished product after careful modification
An optional front camera designed to be installed in the vehicle's front grille. This HD camera has a Sony IMX 225 Sensor, providing a 170° view, and has an automatic activation based on the vehicle speed or manual activation through the integrated touch screen GUI. This add-on completes the GMC trailer camera package
Optional Second HD Wireless Camera for those in need of keeping an eye on the inner cargo area of the trailer. A great solution for moving those precious horses down the road!
Please note: When adding a second wireless trailer camera, you do lose the optional front camera add ability.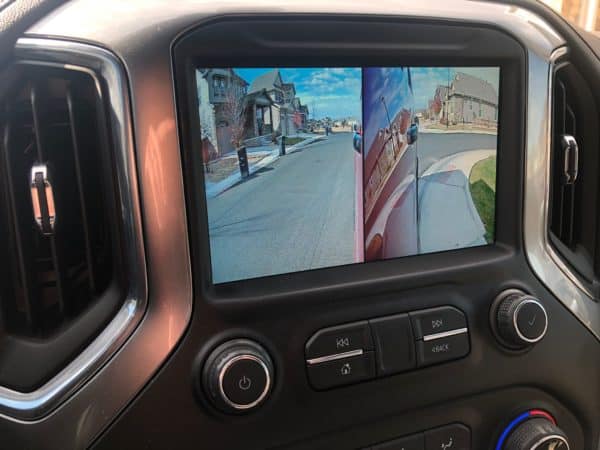 2019 – 2022 Chevy trailer camera (Silverado) is a 4-5 out of 10
2019 – 2022 GMC Sierra is a 6-7 out of 10 due to mirror modification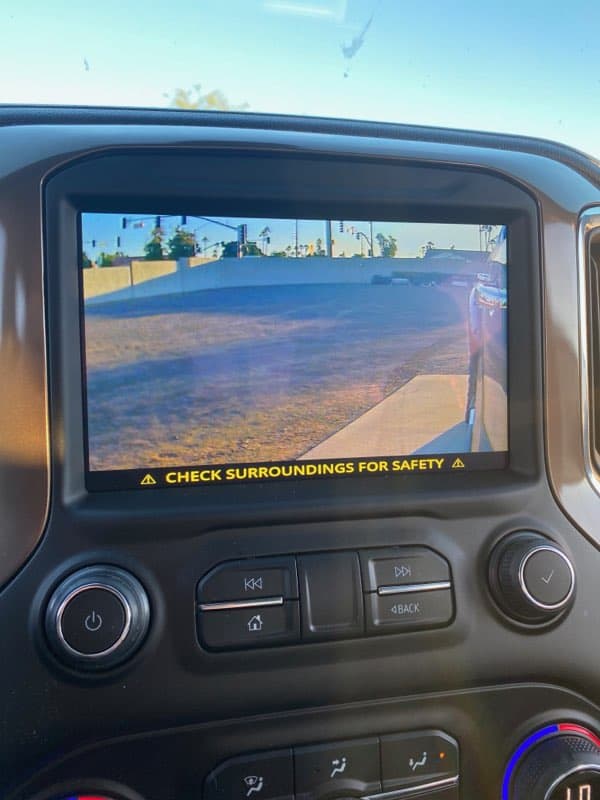 For more information on any of our products:
Please Call 866-428-3585 or make a product inquiry. For Quickest Reply's - Use the Web Chat feature located at the bottom right corner of every page. Business Hours: Monday - Friday: 9am - 4pm (MST). Tech Support must be scheduled and is handled by TEXT message only unless a phone call is deemed necessary by MVI.