Our new Chevy Volt Carplay and Anroid Auto Integration for your 2011 – 2015 Chevrolet Volt.
This is an ADD-ON Solution and Will NOT Replace ANY Factory Equipment.
Ask Product Question:
If you have additional questions regarding this product, please click the button above and we will get back to you as soon as possible.
Get Order in Place:
If you have all the info you need to get an order in place, hit the button above. FYI, this will take you to a form to fill out so we can contact you regarding the order. We will want to chat a little further to make sure both parties are on the same page regarding product operation, installation, shipping timeline and tech support process before getting the order in motion.
CHEVY VOLT CARPLAY AND ANDROID AUTO UPGRADE
MVI is proud to offer our new Chevy Volt Carplay and Anroid Auto Upgrade  for your 2011 – 2015 Chevrolet Volt. This Chevy Volt upgrade is equipped with wireless Apple CarPlay and wired Android Auto functionality, and offers OEM factory-style integration of your Apple iPhone or Android smartphone right through the factory touch screen.
Our system allows you to connect your phone directly to your car. Therefore, allowing you to view and fully interact with your favorite apps. For example,  Waze, Apple, and Google Maps, via full touch control on the factory 7″ touchscreen screen of your vehicle.  If your vehicle is equipped with steering wheel controls, our system can be activated via the "Hang-Up" button on the steering wheel. The Volume up and Down buttons on the wheel will still continue to work to raise and lower volume. However, while inside of the Chevy Volt AutoPlay system, you will need to use the touchscreen touch controls to select and change audio tracks etc. 
WHY DO YOU NEED THE CHEVY VOLT CARPLAY UPGRADE
To illustrate, while inside of the AutoPlay interface and using GPS Mapping from your phone, and also playing your favorite Pandora or Audio Entertainment files from your phone; the turn by turn voice guidance will play directly onto the factory audio system while fading back the audio entertainment files playing. You can listen to AM/FM/XM while using the phone mapping app on the screen. However, the turn-by-turn guidance will only play over the factory audio system while also listening to audio files from your phone. 
This system will accept signal and function as normal even if you have a factory back-up camera already equipped. The Chevy Volt AutoPlay system will give you a rear camera input, so if you are not already equipped with camera, this will allow you to add one easily to integrate and display onto the factory screen without the need of factory camera software. Additionally, the system does come with it's own external microphone, that conceals easy next to your rearview mirror. 
The AutoPlay system does REQUIRE YOU to plug into the supplied USB port to utilize Android Auto and USB Video Playback functionality; however the Chevy Volt Apple CarPlay functionality is WIRELESS! Moreover, this is the only system on the market to add all of the modern amenities and functionality of a brand new vehicle, with NO compromise of your OEM functionality.
ADDING CHEVY VOLT CARPLAY UPGRADE
Furthermore, with this Chevy Volt Carplay Upgrade you will be able to enjoy Carplay features "WIRELESSLY" yes, wireless CarPlay folks, and Android Auto (USB Connection). Consequently, you can start listening to itunes, Navigation through maps or Google Maps, SIRI and Google Voice Commands, an optional phone mirroring feature and more. You can check our youtube videos to learn more. 
HOW TO ADD AUTOPLAY | 2011 – 2015 CHEVY VOLT CARPLAY UPGRADE
Optional Screen Mirroring:  We now offer this kit with full phone mirroring capabilities; allowing you to play Netflix, YouTube and your other favorite video apps from your phone, directly on the screen; as well as any other HDMI video source! This is an optional kit and can be added to the order from the options above.
We would rate this a 5-6 on a scale of 1-10 difficulty level. You will need a strong comfort level working in tight areas and good experience working with 12v electronics. Soldering is required.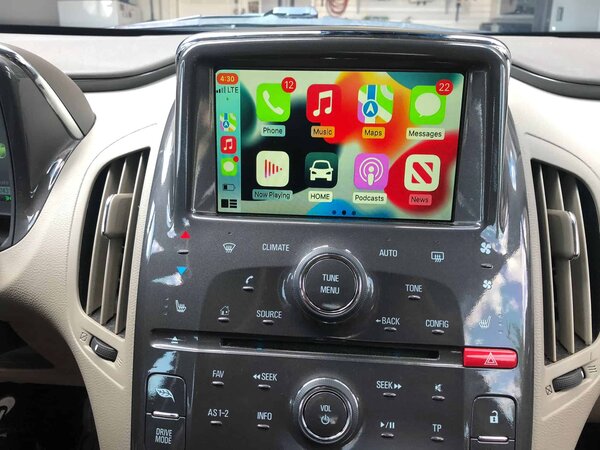 Wireless Carplay
Video Capablities (USB)
Android Auto (USB Connected)
Factory Buttons and Functionality
SIRI and Google Voice Commands
Optional Phone Mirroring Feature
Fast Response
Navigation through Google Maps and other NAV Apps
Installation Guides
Tech Support: Must be scheduled and is handled by SMS messaging. Please see acknowledgements at checkout.
Voice Texting / Messages, Apple and Google Mapping, Waze, Pandora, Spotify, Podcasts, Audiobooks, iHeartRadio, WhatsApp, Stitcher, CBS Radio, Overcast, Audiobooks.com, Audible, Slacker Radio, Radio Disney, Amazon Music, Google Play Music, SiriusXM Radio, Tidal, and At Bat integration
Bose Audio NOT Required
System will update Chevy Equinox and GMC Terrain Apple CarPlay and Android Auto interfaces as your phone updates those applications.
All of our factory systems come complete with everything you'll need for your installation; including all harnessing (fully labeled as to where each connection will be made),  generic instructions, installation Connections Video (also available to be seen under the additional videos tab),  and up to 15 minutes of basic technical support via SMS Text Messaging.Tech Support: Must be scheduled and is handled by SMS messaging. Please see acknowledgements at checkout.
This Volt Carplay Upgrade is compatible with 2011 – 2015 Chevrolet Volt. The wireless functionality only applies to Apple Carplay and not with Android Auto. Android Auto feature will connect via USB. Phone Mirroring is also not included, it is an ADD-ON feature which you can choose to add upon check out. 
The 7″ factory MyLink touchscreen is required for this AutoPlay System. If your vehicle is not currently equipped with the 7″ touchscreen please see our list of screen upgrade before you opt for this feature.
This is an ADD-ON Solution Kit and WILL NOT Replace any of your existing factory Equipment. Please see the additional Videos Tab to see what will be involved with this upgrade.