GMC APPLE CARPLAY AND ANDROID AUTO ENABLED FACTORY SYSTEM
MVI is proud to offer the factory GMC Apple Carplay and Android Auto upgrade for your new 2014 – 2016 GMC Truck or SUV.
We utilize only Genuine GM parts to make this GMC CarPlay and Android Auto upgrade possible, so we offer the ultimate factory solution that most other companies can not offer. Many aftermarket systems often create more headaches than solutions, why not stick with the factory systems that were designed for your vehicle as we have your factory solution right here!
The factory GMC CarPlay and Android Auto upgrade will consist of a new HMI Module, Radio Module and USB Hub for the center armrest. The newly supplied HMI comes with the upgraded 2.5 processor which will also enhance the overall performance of the factory MyLink Infotainment System. This is definitely a noticeable difference to the way the system responds to touch, and this difference alone makes the upgrade worth the investment in your vehicle. There is some changes with how the steering wheel controls will act with this upgrade, so please make sure to read the note regarding the steering wheel controls below.
In order to perform the GMC CarPlay and Android Auto upgrade, you will need option code IO5 or IO6. For more information on how to determine which option code your vehicle is equipped with, please message MVI.
STEERING WHEEL CONTROLS NOTE
This GMC Apple CarPlay and Android Auto Upgrade will bring some changes to how your Steering Wheel Controls act, WHEN and Only When plugged in and using CarPlay or Android Auto. When plugged in and using CarPlay or Android you will NOT be able to Activate Siri or Google Assistant via the Voice button on the steering wheel. There will be an icon on the touchscreen to activate either phones voice features, or you can simply say "Hey Siri" or "OK Google" and not touch anything. This also deactivates the voice button to answer phone calls, however there is an Answer and Hang-Up icon on the touchscreen when the call comes in. The back of wheel buttons will still work to raise and lower audio volume and track forward and backward on your music library, for iPhone. Android phones act differently and from what we've seen, most older Android loose those buttons all together, and we have seen a couple instances with the very newest Android phones. Each Android model acts differently and we have no control over which phones do what. Your steering wheel controls will function just like they do know when your phone is not plugged in and using the CarPlay or Android Auto interface. So, for example; If you get into your vehicle and just have your phone in your pocket or purse, or laying on the console; all of your steering wheel buttons will function as they do now.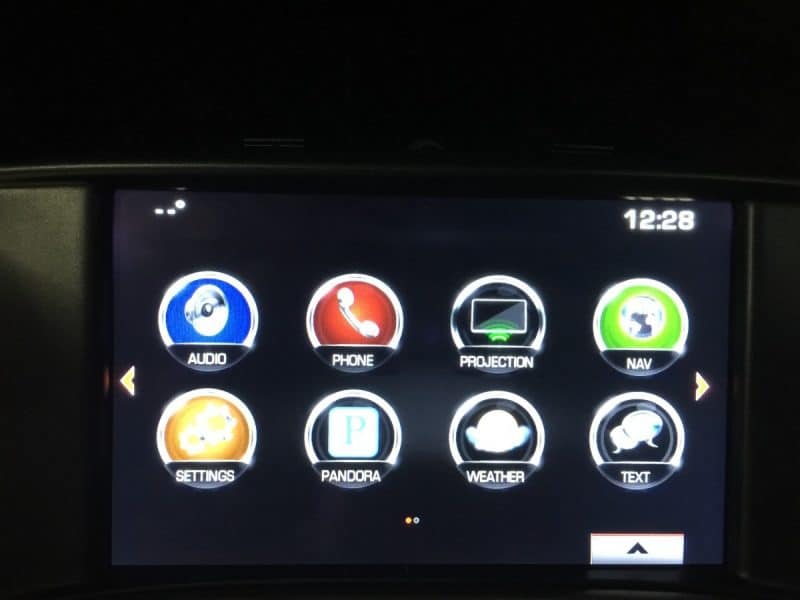 There is a fix for the steering buttons for the GMC Apple CarPlay and Android Auto Upgrade, that consists of replacing the instrument gauge cluster (speedo, fuel, tach etc). This is not a cheap upgrade though, so if interested in retaining full functionality of the steering wheel controls, please message us using the chat feature in the lower right hand corner, and we'll be happy to explain further.
If you currently have Factory NAV you will need to select the I06 option above or you will lose the Factory NAV all together. When upgrading to the GMC CarPlay and Android Auto System you are changing out your existing NAV module and adding the newer module. 
Due to current backlog of consignment modules – we are not offering consignment resell of old modules at this time. Please Feel Free to Message Us for Details.
NEW MAPPING INTERFACE NOTE 
Gm did make some changes to the GMC CarPlay and Android Auto Mapping interface when they launched the new system in 2016. They are very minor changes, but worth noting:
The map icon is now just an arrow, you can no loner set it to be a car or truck image.
The very top portion of the screen is no just blackened out with a compass in the middle. It is no longer a sky background that emulates the weather.
These are hard changes made by GM and can not be changed by MVI. It is also worth noting that the Pause/Rewind Feature on Sirius XM was also removed.
2016 CARPLAY and Android Auto Technology (iPhone/Google Mapping, voice texting, music, and Carplay/Android Auto enabled apps)
Activates Factory NAV Icon on the touch screen (I06 upgrade required)
Upgraded 2.5 Faster Processor for faster overall Intellilink performance
O.E.M Mapping Software (Map updates available through GM)
Enhanced Color Display with 2D or 3D mapping
Plug and Play Installation – 1 hour or less to install on most vehicles
All of our factory systems come with the latest IntelliLink software available; and will come with the latest updates and software fixes to help avoid any issues. This will save you from potential headaches of going to the dealer down the road. A tremendous value added feature which separates ourselves from the rest!
All of our systems come complete with everything you'll need for your installation; including all harnessing, GPS antenna, a complete set of instructions (most vehicle), installation videos (if available), vehicle programming (no dealer programming needed), and up to 15 minutes of technical support (handled via TEXT message only)!
Larger 8″ screen required (I05 or I06 Options).
VIN number required for programming prior to shipping (no dealer involvement necessary).
Professional installation is recommended if you are not familiar with automotive electronics and installations. We do provide up to 15 minutes of BASIC installation support for customers that prefer to do the install on their own, for trouble shooting purposes ONLY. As a custom business we are NOT able to offer on-demand tech support. Tech support must be scheduled via TEXT MESSAGE only. For more info please view our Terms and Conditions.
NEED A SCREEN UPGRADE ?
ADDITIONAL ACCESSORIES YOU MAY LIKE:
Add Wireless Functionality:
PLEASE SEE OUR 360 DEGREE / BLIND SPOT CAMERA SYSTEM AND SMARTPHONE MIRRORING INTERFACE FOR ALL NEW GM VEHICLES
2013 – 2018 GM NAVIGATION ENTRY AND VIDEO UNLOCK
Jason Howard
March 23, 2023
Thanks for the easy install. Loving the new system. Very fast, feels just like a brand new vehicle. OnStar had to update their system with the new values coming from my system. Took a day for them to do so and get back to me. All on star services are working as expected with no negative impact on the new radio system.
Monte Bruesewitz
February 12, 2023
It took the January FW update for the wireless dongle to get things to work correctly, but things are what I wanted now. I updated my 2014 with CarPlay and the wireless dongle. After initial install of the system, I started with just the cable connection and things were good. I then added the wireless dongle, did a FW update to it (December) and it would work at first connection, but lost audio if I switched to ther Radio and came back to CarPlay. It would also fail to connect via wireless on future attempts, and then if I tried to use the cable, the volume controls would not work on the radio at all, and I would have to remove all the known CarPlay devices and start over with fresh pairings. I was about to give up the dongle, but is what I really wanted to work and would be VERY disappointed if I had to just do the cable every time entered the truck. I decided to try some more searches on the dongle to see if others had found a solution, and when I started looking at a full reset process of the dongle, I noticed they had added a January FW update. I agreed to give it one last run, and to my surprise, things have been working as expected with the wireless dongle and the solution is as I was hoping for. If you have struggled with the wireless connection, try the recent FW updated and see if it helps. I noticed others in the Facebook comments struggled with the dongle, but all those comments were before the January update. It appears the dongle vendor fixed a few of their bugs and things are finally working well. Now I need to decide if I want to update my 2015 Camaro as well. A bit more work on the install (not a concern for me), just not sure if the integration will have limitations that will bother me. I need to do a bit more research on that one.
Felix Galindo
Jan 31, 2023
I installed the upgrade, no issues what's so ever.
Michele Mickey Lymons King
December 2, 2014
I ordered the in-motion with SMS feature & the smartphone adapter for my 2015 Yukon. It is a awesome extra on my vehicle. Anthony was very helpful to me and his customers service is outstanding. I would recommend his products to anyone who is looking to add upgrades to their vehicles. Awesome product plus awesome customer service, you will never find better! Thanks Anthony for all of your help. Chris Walker
Nov 3, 2020
Did the Carplay upgrade for my Yukon... Works great and their video talked me thru each stage of installation. Only took an hour like they said... If your thinking about it just do it.. Wish I had done it sooner... Shawn Nunnelly
Sep 22, 2020
I am an owner of a 2015 GMC Sierra. Unfortunately the truck did not have Apple CarPlay. Did a lot of research which resulted me into buying the conversion from MVI. Installation of the modules were simple thank you to the directions given and video on YouTube. Apple CarPlay worked amazing but the voice / speech recognition through the vehicle and weather application did not work. I emailed Anthony and Nick from MVI and it was amazing how fast their response time was. Did some diagnosing as directed and resulted in a warranty replacement. MVI sent both modules but said to replace a certain one and try it. Well I did exactly what they said and it worked!!! I had an excellent experience and would recommend this company to everyone!!! If you are on the fence for whatever reason I hope this review pushes you over the edge to do business with this company. These guys stand by their product. Thank you for all the help and getting me to the place where I needed to be! Doug Swoboda
Apr 13, 2020
Shipping to Canada was very quick and very painless. My new system installed easy and works awesome and as advertised. I would definitely recommend to anyone wanting to upgrade to apple carplay on their Sierra. Doug Millard
Sept 8, 2023
Super fast and easily install, great directions and support, thanks!!!! Michael Waldrop
November 25, 2023
Finished my install, and it went perfectly. Your videos are great and helped a lot. I will look forward to the dongle in the next few days. Thanks