Chevrolet Mylink Screen Mirroring Makes An Appearance to Car Innovation
Nowadays, innovators continue to develop technology, not just for productivity and efficiency of the users, but also for their comfort and safety. Screen mirroring is one of the innovations that helped many of our on the go fellows and it didn't just allow phone to other phones connection! Now, Chevrolet Mylink screen mirroring, and even screen mirroring for GMC vehicles, is possible for your iPhone and Android phones!
What is Screen Mirroring?
Screen mirroring basically allows you to connect your device to another screen and projects the content displayed on your smartphone wirelessly or via cable. It does so by continually sending an exact copy of your full screen or a single window to be displayed on the target device in real-time.
How do I mirror my phone to my car?
While on the road, screen mirroring your phone to your car display is a better choice than to hold your phone and look at it most of the time. There are many ways to mirror your smartphone to your vehicle. So whether you have a GMC or Chevrolet vehicle, this will be applicable to you.
Chevrolet Mylink Screen Mirroring
Screen mirroring from a smartphone device to Chevy Mylink infotainment system works best with Wifi and Bluetooth, however depending on the system, a hard wire connection may be required. Looking for an easy Chevy Mylink screen mirroring or for your GMC vehicle? You can look up the GM Smartphone Screen Mirroring Module with Video Input. You can also check this out: GM Video In-Motion and Navigation Unlock Module.
CarPlay
A good way for an Intellilink / Mylink screen mirroring is by using the CarPlay feature. This helps you to use your iPhone's apps safely, such as playing music and audiobooks. You can also anticipate traffic along the way and suggest another route as an alternative. You can either connect your iPhone through Lightning Sync  cable or Wifi / Bluetooth on the newer vehicles.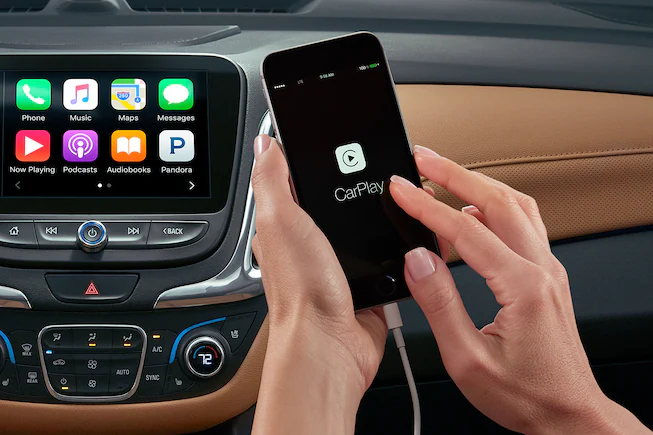 Android Auto
Android Auto is one of the popular methods for Intellilink / Mylink screen mirroring. Almost all car stereos nowadays come with Android Auto compatibility. Connect Android Auto to your Chevy Mylink via USB cable and you will be able to mirror your phone display. However, there will be some limitations in what it can display.
OTHER UPGRADE OPTIONS FOR CHEVROLET VEHICLE
Since these features are most likely in the newer models, MVI, Inc. offers to add and upgrade CarPlay / Android Auto to your Chevrolet vehicle's factory radio. We also offer AutoPlay for Apple and Android Phone integration for 2010 – 2015 Chevy Camaro models. Or you can add or upgrade your 2014 – 2015 Chevy Corvette to have a CarPlay / Android Auto feature.
If you have decided to install these features to your Chevy vehicle on your own, MVI also provides installation video. You can always visit our Youtube channel for guides. We demonstrate how to add Apple CarPlay and Android Auto. We also provide a guide for installing an AV module with smartphone display for Chevy Silverado and other car models.
At MVI Inc., we are proud to provide professional installation of OEM navigation systems. We specialize in GM Navigation Systems, but also offer fitments for more platforms including non-Bose audio and other original factory navigations such as Ford, Chrysler/Dodge/Jeep MyGig, and Volkswagen. All of our original factory navigation systems can be perfectly integrated into your vehicle as if it came built that way from the dealer.
For more information on any of our products, please call 866-428-3585 or make a product inquiry. For quickest replies, you can use the Web Chat feature located at the bottom right corner of every page.
Business Hours: Monday – Friday: 9am – 4pm (MST).