MVI is proud to offer the factory OEM Apple Carplay / Android Auto System Upgrade for your 2014 – 2015 Chevrolet Corvette!
Chevy Corvette Carplay and Android Auto upgrade for your 2014 – 2015 Chevy Corvette is all OEM equipment, and an MVI specialty.  Don't settle for aftermarket solutions that often bring more headaches than actual solution. We have the genuine factory system available right here at MVI.
Our 2014 (please read details below) and 2015 Chevy Corvette CarPlay and Android Auto Systems are designed to retain all factory features such as the Performance Data Recorder ( PDR ), Drive Mode Selections / Magnetic Ride Control with PTM, Performance Exhaust / Engine Sound Management ( NPP ), Rear Camera parking grid lines, HD Radio, Pandora etc., which is not the case with other OEM and Non OEM systems on the market. Why not stick with the factory systems that were designed for your vehicle; and we have your factory solution right here! Please see what our customers are saying about our system and the extra retained features over our competitors on Corvette Forum.
2014 CORVETTE Z51 OWNERS WITH MCR AND NPP EXHAUST PLEASE NOTE
Due to the difference in the Electronic Suspension Control Module's between 2014 to 2015 Model Years; you will loose the onscreen touch control of the Suspension and Sound Management. You will, however, retain full control of the drive modes via the Multi Selection Rotary Knob on the center console. The Exhaust Sound will also continue to change modes with the knob selections as well. If you wish to change just the Exhaust Sound while staying in current drive mode we recommend purchasing the "Mild 2 Wild" modification available very affordably on various sites and is a very easy self install. 2014 Corvette Owners without the Z51 package or MRC and NPP Exhaust should not be affected.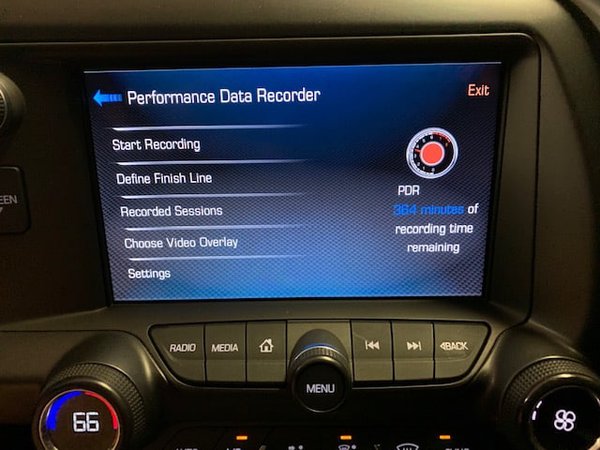 ALL 2014 – 2015 MODELS PLEASE NOTE
If you currently have Factory NAV; you will need to select the I06 option above, or you will create additional issues with your existing build features and you Will Lose the Factory NAV all together. When upgrading to the CarPlay / Android Auto System you will be changing out your existing HMI NAV module and adding the newer 2.5 navigation module with the CarPlay / Android Auto built in. You will also be swapping out the Radio Control Module and USB Hub in the center armrest. 
2016 CARPLAY / Android Auto Technology ( Apple / Google / Waze Mapping, Voice Texting, music, and other Carplay / Android Auto apps)
Retention of all factory features such as Performance Data Recorder ( PDR ), Drive Mode Selections / Magnetic Ride Control with PTM, Exhaust/Engine Sound Management ( NPP ), Rear Camera parking gridlines, HD Radio, Pandora, etc. (2014 notes above still apply).
Adds HD Radio if not already equipped
Activates Factory NAV Icon on the touch screen (Purchase of I06 option above required)
Upgraded 2.5 Processor for overall faster and more responsive MyLink performance
O.E.M Mapping Software (completely update-able through GM)
Enhanced Color Display with 2D or 3D mapping
Plug and Play Installation (due to the nature of where the modules are located in the Corvette, this is an advanced time-consuming install, and professional installation is recommended if not familiar with working on the Corvette)
All of our factory systems come with the latest MyLink software available, will add the weather/travel apps (XM subscription required), and will come with the latest updates and software fixes to help avoid any issues. This will save you from potential headaches of going to the dealer down the road.  A tremendous value added feature which separates ourselves from the rest!
All of our factory systems come complete with everything you'll need for your installation; including all harnessing, GPS antenna, a complete set of instructions, installation videos (if available),  programming to your specific vehicle (no dealer involvement needed), and up to 15 minutes of technical support! Tech Support is done via SMS TEXT Messaging ONLY.
Steering wheel controls will not work to Activate Siri or Google Voice when phone is plugged in for CarPlay and Android Auto. There is a voice activation button on the touchscreen or you can utilize the " Hey Siri "  or " OK Google " phone voice features and not touch anything. If you wish to have the steering wheel buttons retained for voice activation inside of CarPlay / Android Auto, you'll need to call MVI to discuss the additional upgrade required to retain that feature. Steering wheel controls will function as they do currently when NOT plugged in and using CarPlay / Android Auto. 
VIN number required for programming prior to shipping (no dealer involvement necessary).
Professional installation is recommended if you are not familiar with working on the Corvette. We do provide up to 15 minutes of BASIC installation support for customers that prefer to do the install on their own, for troubleshooting purposes ONLY. As a small custom business, we are NOT able to offer on-demand tech support. Tech support must be scheduled and handled via TEXT MESSAGE only. For more info please view our Terms and Conditions.
Tony Klimas
Aug 29, 2021
Install was not too difficult and everything works great. Added the Motorola wireless dongle and I have Android Auto every time I get in my car. Also noticed my Nav and a few other things were updated. Very happy with the results. Had some questions about my Sirius XM radio ID and they answered via text. 2015 stingray lt2 z51
Kevin Kuttin
Nov 10, 2021
Excellent pre-sales support to make sure I was getting the correct product. Smooth process all around!
Leslie Jorges
Jul 7, 2020
Anthony was fantastic to work with. Led me to exactly what I needed. Upgraded my 2015 Corvette Z06 mylink to CarPlay. Just picked it up from installer, took about an hour. Everything is working great.
Breckham Borin
Apr 24, 2020
I add CarPlay and Nav to my 2014 Corvette and it works perfectly. You has to add a GPS antenna under the left speaker but besides that it is plug and play. Awesome product!!!! Notes: MVI will send you instruction with the product. If you are adding navigation to the car disregard the instructions that say they will send you a bypass harness. This is not a valid. They will not send you a bypass harness and it is not needed. Also, the GPS antenna is screwed into a metal plate. I had to unscrew it from the metal plate. It will not fit as an assembly. I just threw the metal plate away and used the Velcro they sent to secure the antenna.
Rob Smith
May 15, 2020
I have a 2015 Corvette, ordered an upgrade to add CarPlay. Units arrived within 5 days, everything was plug and play, and worked perfectly! Anyone out there with a vet looking to upgrade MVI is the place to go.